Last year over 400 bloggers participated in this event, on January 24th our host had over 596 blogs ready to be listed for the event - WOW !
What a great way to increase traffic !
If you visit the Home site they will have a list of all those participating and you can also join in and visit with the rest of us.
As part of this event I am having a special Give-A-Way
(separate from my January Give-A-Way- which you can also get in on - shortcut on the right side bar)
GIVE-A-WAY NOW CLOSED
THE WINNER IS :
Andrea Ostapovitch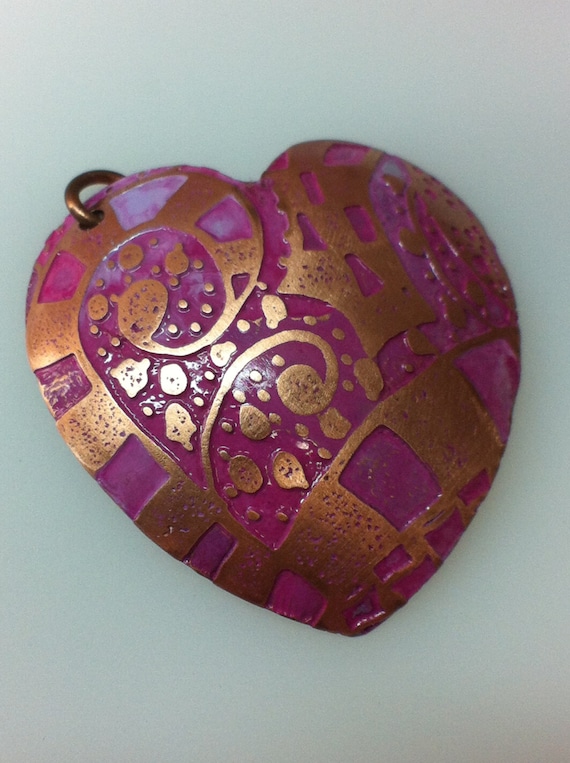 Its Almost Valentines Day - so what is more appropriate than a Heart
18G Approx 1-3/4" Copper Domed Etched with my own Zentangle pattern with a pink/purple patina
Sealed and ready to be put on a chain (copper jump ring)
Same rules as my regular Give-A-Ways - just post to this blog thread (this thread only ) a comment- say Hi !
(the only restriction is no anonymous so I can find you again later to send you your gift)
From the list I will randomly pick a winner on February 15, 2014
You do not have to pay for anything - I will ship worldwide free of charge
I would love to increase my followers and you can do that by going to the side bar on the right and become a follower.
I hope you enjoy my blog- Happy Reading !

Thanking you all for reading and joining

I'll be leaving this post up all week before adding new items just to catch everyone jumping around the blog hop

Update: 1-25-14 8:49 am - I've made it through the first 50 listed
Its 6:45 and I've made it up to 100
Tuesday 1-28- 14 7:34 finally made it to 200 only 396 to go
How am I ever going to get to 596 ! the blogs are so interesting I linger . If I dont leave a note its just cause I have fallen behind and trying to get through all the blogs
Finally over the 400 blog mark - and still going - such interesting blogs and great works - I've revisted some that I saw the first day as well - it is very addicting going through all these wonderful blogs I didnt even know existed !!!!!